The Search for the Sydney
By David L Mearns
| | |
| --- | --- |
| Price: | $55.00 |
| On Sale: | 1/08/2009 |
| Formats: | Non Standard Hardback |
| Publisher: | HarperCollins Australia |
Book Description
She was the glory ship of the then fledgling Australian Navy: a modern, handsome cruiser which carried a wartime complement of 645 men. But then, on 19 November 1941, HMAS Sydney encountered the German raider Kormoran in the Indian Ocean off WA. The violent battle that ensued left Kormoran destroyed. Sydney was glimpsed sailing off the horizon, on fire, shell-damaged and suffering a torpedo hit to her bow. It would be 66 years before anyone laid eyes on either ship again.
In 2002 shipwreck hunter David Mearns joined the long list of people who had tried to find the Sydney. The next six years would test Mearnsís talents as detective, engineer, marine scientist and leader, taking him from war archives in Germany to homes of Kormoran survivors to the depths of the Indian Ocean. He would navigate false clues, conspiracy theories, maddening technical problems and cyclones but in 2008 he recorded the astonishing words 'HMAS Sydney found!'
Here, for the first time, David Mearns tells the action-packed story of the hunt for the Sydney - and the Kormoran - and reveals what really happened on that fateful day in November. Accompanied by stunning photographs, many of them never seen before, historical imagery, detailed maps and full-scale models of the cruiser, this is a book to delight enthusiasts and general readers alike, an incomparable adventure set on the high seas.
David L Mearns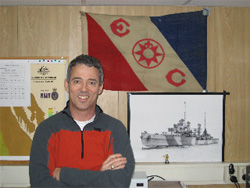 David Mearns is one of the world's most experienced and successful shipwreck hunters. Over a 23-year career, David has led the search and recovery of nearly 21 wrecks, most notably HMS Hood, the Derbyshire and the Lucona, the deepest shipwreck ever found at over 5,000 metres under the sea. His previous book, HOOD AND BISMARCK, was co-authored with Rob White. David lives in Sussex in the UK with his wife, Sarah and their three children.